Swimming Pool 't Zuiderdiep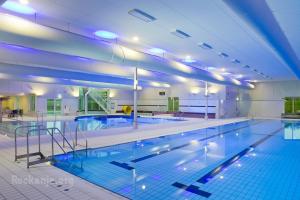 Swimming Pool 't Zuiderdiep in Stellendam offers an abundance of water fun for the whole family. With a range of indoor and outdoor facilities, this swimming paradise is the perfect destination for a day filled with fun and relaxation.
What Can You Expect?
Versatile Swimming Facilities: The complex includes an indoor pool, divided into a competition pool for serious swimmers and a leisure pool for relaxed water fun.
Water Attractions: Experience thrills on the big water slide, relax in the whirlpool, float in the fast-flowing stream, or let yourself be carried away by the powerful jetstream.
Toddler Pool: For the little ones, there is a safe toddler pool where they can enjoy the water in a fun and secure way.
Outdoor Pool with Sunbathing Area: During the summer months, the large outdoor pool with slide is open, complete with an inviting sunbathing area for sunbathing or relaxation.
Terrace and Bar: Upon arrival, you'll be welcomed by a cozy terrace where you can enjoy a variety of snacks and non-alcoholic drinks.
A Perfect Day Outing
Swimming Pool 't Zuiderdiep is ideal for both locals and tourists. Whether you come for athletic swims, relaxation, or simply family fun, Zuiderdiep has something for everyone.
For information:
Zuiderdiepstraatweg 4, Stellendam
tel. +31 187 491 543
web.
Website