RTM Tram Museum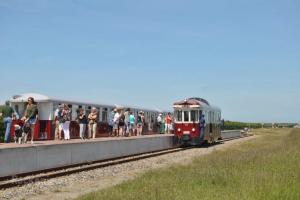 RTM Tram Museum offers visitors a unique opportunity to experience the history of trams and public transportation in the Netherlands. The museum takes you back to the era of steam and diesel trams that connected the islands of Goeree-Overflakkee and Schouwen-Duiveland.
What can you expect?
Historical Trams: Explore an impressive collection of historical trams, carefully restored and not only a feast for the eyes but also telling the story of public transportation of yesteryears.
Tram Rides: Tram rides are made from and to the museum along the Brouwersdam via Port Zélande to the south shore of the Grevelingenmeer. The tram ride (round trip) takes about one hour. Along the way, you can enjoy the nostalgia while passing through the beautiful nature.
Educational Exhibitions: The museum offers educational exhibitions where you can learn more about the history of tram lines in the region and the development of public transportation in the Netherlands.
Cozy Museum Shop: Visit the museum shop where you can find unique souvenirs and memorabilia, perfect as a memento of your visit.
Practical Information:
Accessibility: The museum is easily accessible by car and has a large parking area. You can also board the trams at stops like De Punt, Port-Zelande, Middelplaat-Haven, and West-Repart.
Operating Days and Museum Opening Hours: Please visit the website for the current opening hours and tram ride times.
For Young and Old: A great destination for all ages. Children will be fascinated by the large, old trams, while adults can immerse themselves in history.
A visit to RTM Tram Museum is a journey back in time. It offers a unique blend of education and fun, where you have the chance to learn about and enjoy the rich history of Dutch public transportation.
Hop on board and experience nostalgia at RTM Tram Museum while enjoying the beautiful vistas along the route!
For information:
Book tickets online
G.C. Schellingerweg 2, Ouddorp
web.
Website