Fire Museum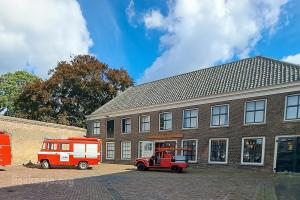 The Fire Museum in Hellevoetsluis offers a fascinating glimpse into the evolution of firefighting in the Netherlands. A true treasure trove for history and firefighting technology enthusiasts.
What Can You Expect?
Extensive Collection: Discover an impressive array of firefighting equipment spanning the centuries, from leather buckets to hand fire engines and ornately decorated pumps.
Royal Pieces: Admire a unique collection of hand fire engines originating from the former royal palace Soestdijk.
Development of Fire Brigades: Explore the fascinating history that led to the formation of the first officially organized fire brigades in the Netherlands.
Iconic Fire Trucks: Be impressed by historical fire vehicles like the legendary Ahrens-Fox with its distinctive 'Windketel' and the luxurious Italian Fiat from the 1920s.
Largest Collections in Europe: The permanent collection of The Fire Museum Hellevoetsluis is known as one of the largest in Europe, featuring pieces from Amsterdam, Rotterdam, Utrecht, and various private collections.
A Unique Cultural Experience
The Fire Museum is not only an educational experience but also a tribute to the heroes of firefighting throughout the years.
Whether you're a firefighting enthusiast, interested in technical history, or simply looking for a unique experience, The Fire Museum Hellevoetsluis is a must-see. Dive into the rich history of firefighting and discover how this essential profession has evolved over the centuries.
Come and experience the heat of history at The Fire Museum Hellevoetsluis!
For information:
Industriehaven 8, Hellevoetsluis
tel. +31 181 314 479
web.
Website