Historisch Museum Den Briel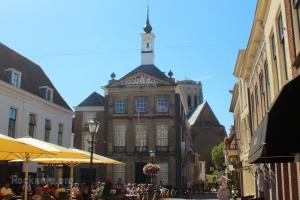 The Historical Museum Den Briel, located in the heart of Brielle, offers visitors a captivating journey through the history of this historic city. From its role in the Eighty Years' War to contemporary cultural developments, this museum illuminates the fascinating history of Brielle in all its facets.
What Can You Expect?
Interactive Exhibitions: The museum offers a series of interactive exhibitions that bring history to life. Visitors of all ages can enjoy engaging stories, historical artifacts, and multimedia presentations.
The Eighty Years' War: Learn more about the crucial role of Brielle in the Eighty Years' War, including the renowned capture of Den Briel in 1572.
Local Culture and Heritage: Discover the rich cultural traditions and heritage of Brielle, from ancient customs to influential figures who shaped the city.
Educational Programs: The museum offers educational programs and tours, ideal for schools and groups interested in the deeper layers of Dutch history.
Special Events and Exhibitions: In addition to the permanent collection, the museum regularly hosts special events and temporary exhibitions that delve deeper into specific aspects of local history.
A Must-See Destination
The Historical Museum Den Briel is a must-see for anyone interested in Dutch history and culture. It provides a unique opportunity to explore and understand the historical events that have shaped Brielle.
The Historical Museum Den Briel invites you to discover the rich history of Brielle. Whether you're a day-tripper, a history enthusiast, or a local resident, the museum offers an enriching experience that transports you into the past of this fascinating city.
Explore the stories that have shaped Brielle at the Historical Museum Den Briel!
For information:
Markt 1, Brielle
tel. +31 181 475 475
web.
Website