Eastern Scheldt storm surge barrier - Attraction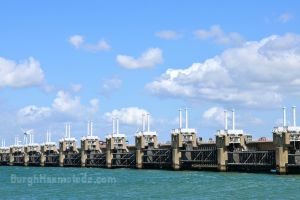 More than half of the Netherlands lies below sea level. The Delta Works were built to keep everyone safe and to prevent a recurrence of the 1953 flood disaster. You can relive history at Deltapark Neeltje Jans: from the flood disaster to the construction of the Delta Works. Exhibitions, films and a visit to the storm surge barrier itself will give you an impression of the stupendous power of water. People come to view the storm surge barrier from as far away as America.
Exhibition 1953 Flood
20 hours of north-westerly storm pushed the waters of the North Sea up to a height of 4.20 meters above Amsterdam ordnance zero. This proved too much for the dikes in Zeeland. Hundreds of gaps appeared and almost 200,000 hectares were flooded with swirling, salty sea water. The exhibition about the 1953 flood at Delta-Expo communicates the human experience of the catastrophe.
torm surge barrier
Most of Zeeland is at or under sea level. In 1953 the dikes were in poor condition and too low. In those days the chance of flooding was once in eighty years. Thanks to the storm surge barrier, this risk has now been reduced to less than once in 4000 years. Take the opportunity to visit this construction inside and outside. You will be surrounded by concrete with a 200-year guarantee, 45 meter wide steel doors are raised to let the tides rush through below them. A must to visit – a must to have seen!
For information:
Book tickets online
Stormvloedkering
Faelweg 5, Vrouwenpolder
web.
More information